Interview: Kylie De Courteney, NSW Telco Authority
---
We spoke with the NSW Telco Authority's new Managing Director to get a progress report on the state's communications programs.
The NSW Telco Authority is a statutory agency within the newly created Department of Customer Service, with a remit to connect emergency service personnel across the state so that they can work together to keep people and places safe.
It does this by designing, commissioning and managing operational telecommunications services which support NSW Government agencies and communities, especially the Government Radio Network (GRN).
The Authority is currently involved in four major efforts: the Mobile Black Spot Program, the Regional Digital Connectivity project (RDC), the Critical Communications Enhancement Program (CCEP) and Public Safety Mobile Broadband (PSMB).
Under the Mobile Black Spot Program, the NSW Government has committed more than $39 million to build at least 183 new or improved mobile base stations throughout the state. The NSW Telco Authority works in partnership with the Department of Premier and Cabinet on the program, which is being delivered in partnership with the Australian Government and mobile network operators. In NSW, 159 new sites have been built to date.
The RDC project is part of the state government's $50 million Connecting Country Communities Fund, which is investing in infrastructure to provide fast and reliable broadband internet access to regional communities in NSW. Delivered in partnership with the Department of Premier and Cabinet, it aims to enable the same level of digital connectivity in the regions as is available in metropolitan areas.
Of most interest to readers of Critical Comms are the GRN and the CCEP and PSMB projects. To find out more about them and to get a progress report, we spoke with the new Managing Director of the NSW Telco Authority, Kylie De Courteney.
Kylie De Courteney, Managing Director, NSW Telco Authority
Prior to being appointed Managing Director, De Courteney was the Chief Customer Officer at Service NSW with responsibility for organisational strategy, data analytics and customer experience. Before that, she was the Chief Digital and Product Officer.
De Courteney has expertise in complex program delivery and organisational transformation as well as experience in mergers and acquisitions and operational performance improvement in the private and professional services sectors, and federal and state government. She has previously held senior management roles at Telstra and Ausgrid, and was previously an independent member of the NSW Telco Authority Board for three years.
"I am passionate about the digital transformation of government and customer-centric service design," she said. "I want to harness that commitment to customer-centric service to ensure the Authority is delivering to its most important customers — emergency services organisations (ESOs) including NSW Police, NSW Ambulance, Fire and Rescue NSW, NSW SES and the NSW Rural Fire Service."
Spectrum and the GRN
"The main activity that we undertake is managing the public safety network… keeping people and places safe. That's the core of what we do," De Courteney said. "Part of that requires having spectrum, so therefore there's a role for the Telco Authority in liaising with the Commonwealth Government since telecommunications and spectrum is their responsibility.
"In terms of spectrum, it's clear that demand outstrips supply across commercial, government and not-for-profit sectors," she added.
Part of that spectrum is used by the GRN, the main communications backbone that, historically, has been used by almost all NSW emergency services agencies. But in order to rationalise assets, increase interoperability and reduce costs, the NSW Government has taken the decision to move essentially all government bodies that use radiocommunications onto the GRN. Could this include NSW Police, which has its own (yet compatible) network?
"It is very clear now that from the Premier to Macquarie Street, to all of the Commissioners leading all of the emergency services and public safety agencies, that there is support to move to one network that covers the state," De Courteney said.
So does this mean that absolutely every single NSW Government body, no matter how big or small, will eventually make its way onto the GRN?
"The working hypothesis is that it is everyone, because it's about both efficient use of taxpayers' money on infrastructure as well as the efficient usage of spectrum," De Courteney said. "I can't imagine the taxpayer being particularly happy if we've got a Government Radio Network… which covers most of the state, and then someone else builds something else that sits beside it. It's just not a great use of taxpayers' money."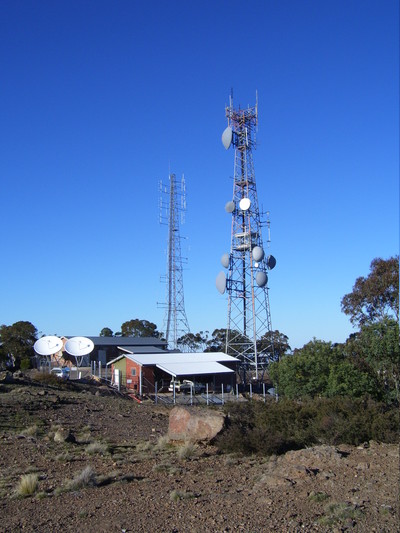 The GRN site at Mt Canobolas in central New South Wales.
The NSW Government has a very successful data centre network called GovDC, which provides complete data centre services to government departments and agencies. So successful has it been that even local councils are signing up to use it. Does De Courteney see the potential for something similar happening with the GRN?
"The core of what we're doing here is about public safety agencies, but there's certainly capacity for others to use the network," she said.
Critical Communications Enhancement Program
The GRN provides secure radiocommunications to more than 40 ESOs and state agencies, encompassing a total of approximately 55,000 radio users.
The CCEP will extend the GRN's geographic coverage from less than 35% to more than 80% of NSW, and represents the largest investment ($320 million) in critical communications by the NSW Government in two decades.
There are currently more than 230 sites in the network — this will increase to about 700 sites when the project is complete.
A CCEP pilot project has been successfully completed in north-western NSW covering the area around Lightning Ridge, Collarenebri, Walgett, Carinda, Coonamble, Nyngan and Warren. Seventeen new sites were added to the GRN during the pilot, resulting in radio coverage increasing from approximately 57% to over 90% in the area.
In the greater metropolitan area (GMA), the Authority is enhancing the existing network by almost tripling its 46 current sites.
In June 2019, construction of the first 12 new sites within the GMA commenced with the first site at Hill Top completed and operational.
Increasing the density of radio sites and the addition of dedicated in-building systems across the GMA will result in significant improvements in handheld radio coverage and in-building coverage, De Courteney said.
"The greater metropolitan area has its own set of challenges," she said. "The roof of a Westfield is not quite the same as the top of a hill on the Queensland/NSW border, in terms of design challenges and construction challenges."
Improving communications coverage on the NSW North Coast is a high priority, given its flood-prone areas and high rate of natural disasters. Eighty-seven radio sites have been identified in a region that runs from Port Stephens to the Queensland border.
"We're gaining a lot of momentum in the North Coast area, so you can start to expect to see more of the announcements about the North Coast," De Courteney said.
Detailed design has been completed for more than 40 North Coast sites. Construction of approximately 50% of the sites is expected to be complete by 31 October 2019.
In addition to all of the above, there is a Priority Works program, being a collaborative initiative involving the Authority and the five public safety agencies, which prioritises construction and upgrades to 53 sites deemed critical.
Construction of nine of the first 10 Priority Works sites has been completed, with six sites operational: Griffith, Castle Hill, Campbelltown, Mungindi, Mt Darling in the Hilltops local government area (LGA) and Martins Lookout in the Glen Innes Severn LGA.
An additional four key Priority Works sites were completed and operationally accepted in 2018: Parramatta, Royal North Shore Hospital, Westfield Sydney and Chatswood.
A GRN site at Campbelltown in south-western Sydney.
Public Safety Mobile Broadband
Emergency services organisations have an increased need for mobile data to support day-to-day and mission-critical activities, which is why many nations, including Australia, are working hard to provide first responders with mobile broadband capabilities.
These capabilities will add broadband data and video to the first responder toolkit, enabling much greater two-way transmission of critical information.
Australia's PSMB effort is being led by the Department of Home Affairs in Canberra, with all of the states and territories involved in negotiations and discussion about the final form of the network.
To date, the program has seen stakeholder and customer engagement, technology and innovation planning, and a Request for Proposal procurement process for a PSMB proof-of-concept trial.
Some details of PSMB and the RFP for the proof-of-concept trial have been presented and discussed at the Comms Connect conferences over the past two years. But it's fair to say that not a lot of information has been forthcoming, as government deliberations slowly progress.
The NSW Telco Authority hosts the PSMB National Program Management Office (PMO), which is charged with developing the national roadmap.
"It's not that NSW is doing it on behalf of [the states and territories], we just happen to be hosting the national PMO," De Courteney said. "But it is a great example of the states and territories all working together with the Commonwealth to drive to the right outcome in this Public Safety Mobile Broadband space.
"It can be quite challenging to work across state boundaries and certainly for something like this we're all trying to get ahead… you know, we don't want the rail gauge issues of the past. But everyone's working really collaboratively together to progress this," she added. "We're hoping that there's more we can say by the end of the year."
Public service
"Having an organisation in NSW that's able to focus on PSMB, the GRN and RDC… it's a great opportunity for government to leverage what's here in the form of the Telco Authority," De Courteney said. "It's great for the Telco Authority to… have that expertise in the intersection of infrastructure and communications."
De Courteney said she's inspired in her work by "the opportunity to make a difference to almost everyone in the state".
"Bringing all of the emergency services organisations onto one network will make life better for the people of NSW and all of those people at the frontline of emergency service provision," she said. "It's fantastic to be working in that kind of purpose-driven organisation."
Images courtesy NSW Telco Authority
---